FREE THIS THURSDAY SEPTEMBER 20, 2018 FROM 6–8pm AT THE FRIDGE: ARTISTS TALK WITH PAINTER DAVID MOLESKY
Fridge Gallery Director Alex Goldstein will be hosting currently exhibiting artist @moleskystudio and will moderate a discussion about "Return to Sender" and lead a tour of the work on view. Free & open to the public.
The Fridge is excited to present two solo exhibits side by side. Return to Sender will be the third solo exhibit at the gallery for David Molesky, and What it is will be the first solo exhibit for legendary DC-area artist Michael Brown.
Molesky will be displaying 10 select works from his renowned fire and riots paintings series, and Brown will be showing nearly 100 of his trademark smaller works on paper painted from 2000–2018. Gallery curator Alex Goldstein is excited to see these two very unique artists works side by side, saying "Punks not dead." Exhibit is on view through September 28, 2018.
---
UP NEXT IN THE GALLERY:
The Fridge Presents
Joelvincii
Joelvincii in Retrospect
October 5, 2018 – October 28, 2018
Opening Reception for the Artist: Friday October 5, 2018
7–11pm 
The Fridge will debut a new series of works from Washington, DC native Joelvincii (née Joel Ulmer). Joelvincii's oil paintings explore identity and class through his lens—that of an African American man who was raised in SE DC. The artist's unique understanding of interpersonal tension rooted in race and class took root after he started attending high school in an affluent neighborhood in the NW.
"I started to see a whole new culture. I would take the train from the NW going back to the SE, and I knew what I was leaving. Seeing the contrast between the two communities—the difference was really huge," says the artist.  
Twenty-one works that follow a timeline divided into four eras will be on view. The beginning of the timeline looks to the African experience at the source of evolution, and then progresses through American eras of slavery, the post-slavery transition, and the modern day. The timeline concludes with a self portrait of the artist today.
"The self portrait is the only time my representation makes an appearance in the works, but I see reflections of my identity in the stories told in all of the pieces in the show. In one of the works, I contrast the lifestyles of two kids – one rich and one poor. The idea for the piece came out of a conversation with a friend who questioned how much historic prejudice influences the experience of being African American today," says the artist. "I thought, how can I get her to see things from my perspective?"
A rich and dynamic portrait of African American experience is conveyed through Vincii's works. A bright blue sky shining down on a cotton field during the slavery era is meant to show perseverance and hope for a different future. In a piece from the post-slavery era, a white man depicted in three phases – as an executioner; a member of the Ku Klux Klan; and as a man in a suit, intended to represent racism as a cloaked motive – shows shifting perspectives on discrimination. From the modern day era, two kids jumping on the bed evoke a playful interchange of love. The smaller child is depicted wearing a t-shirt with a design in the style of Keith Haring, a red heart jumping off his chest. This piece is currently on view as part of the This Is My Day Job exhibition at The Phillips Collection and will be reprised as part of Vincii's show at The Fridge.
Joelvincii intends to generate conversation between viewers with this exhibition. He sees art, and the commentary that comes as a result of viewing art, as an opportunity to create a space for people to have conversations about race that may not be possible in other settings.
"I want people to be better informed. I want them to better understand the experience of what it means to be an African American living in America today," says Joelvincii.
---
NUMBER ONE NEW BOOK:

Smashed: The Art of the Sticker Combo is a street art photography book that shows how trading street art stickers by mail has grown into a gallery exhibition that reached three million people in 2016. Over the last 5 years the DC Street Sticker EXPO has evolved into Washington DC's largest group show. The EXPO has hundreds of sticker artists participating for each installation making up the hundreds of thousands of stickers that cover the gallery. This book follows the growth of the DC Street Sticker EXPO beginning in 2013 with a 10,000-sticker installation, to an installation of nearly 300,000 stickers in 2016. See what high-resolution images of a fine art gallery smashed with hundreds of thousands of stickers looks like. It's simply unforgettable.

PURCHASE BOOK HERE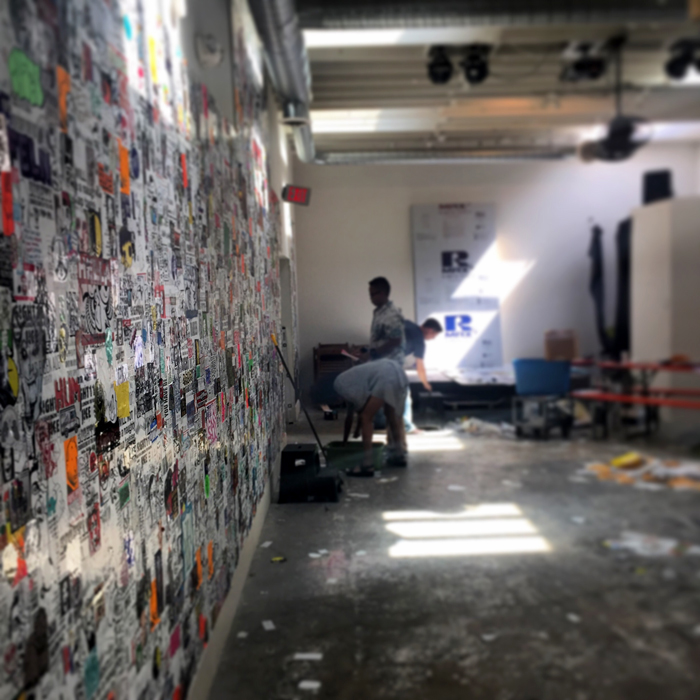 PURCHASE BOOK HERE